After more than 1000 maintenance-free hours of operation on our test bench, we are observing amazing behavior in terms of performance and efficiency. At the beginning of the test phase, the small power pack delivered a charging capacity of 40 amperes at a voltage of 24 volts, and we were curious to see whether and how long this value could be maintained by the lubricating oil-free unit over the course of the long-term test phase.
The performance records of the Stirling engine, which was operated around the clock, initially revealed no change over a period of 600 hours. Contrary to our expectations, the charging current increased steadily and reached a value of 46 amps when the 1000 hour mark was exceeded. Reason enough to analyze the pleasing behavior and incorporate the results into the continuous improvement process.
A long running-in phase means a long service life
The team has been researching the tribology of the sliding pairing of pistons and cylinder liners for years. Progress followed by undesirable developments in the extremely complex relationships between temperature, coefficient of friction, specific surface loading, average piston speed and the condition of the surfaces.
But that's not all: another variable is added in the form of the contact pattern between the piston and the cylinder, which unfortunately does not cover the entire surface, since both the cylinder and the piston leave their exact cylindrical shape under the influence of temperature. We have succeeded in making these inaccuracies during the running-in phase almost completely inconsequential and at the same time keeping the abrasion extremely small over a long period of time until the full-surface contact pattern is reached.
After this process has ended, no significant wear is to be expected for a long time, since the decreasing specific surface load increases the proportion of gas lubrication. The result is reduced friction work in favor of a higher net output. The following graphic 1 shows the overall energy balance when using liquid gas as a fuel after the run-in phase.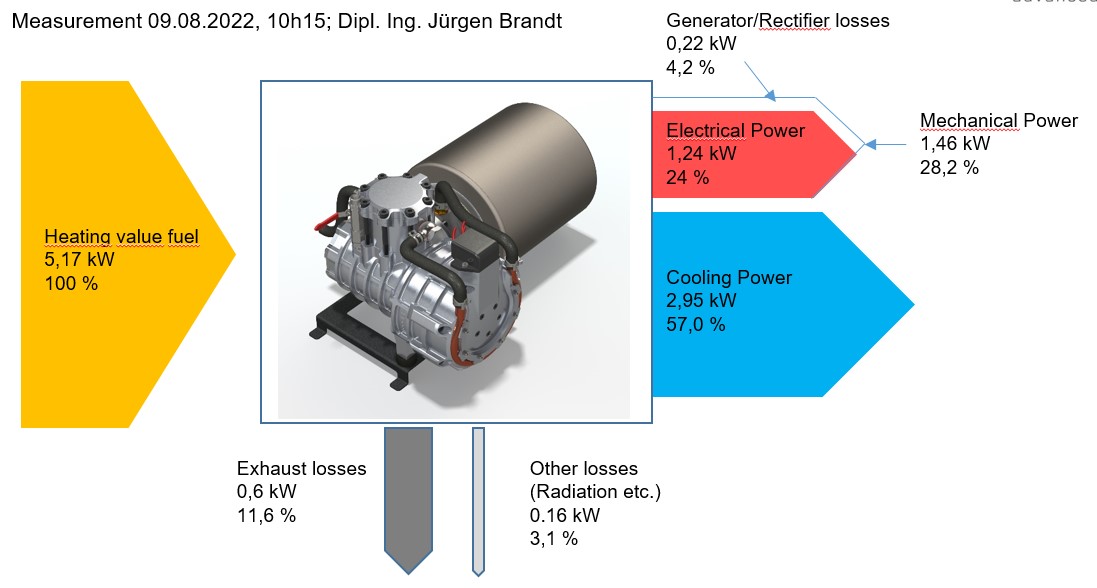 Graphic 1: Total energy balance Stirling Module G70 with the fuel liquid gas
Perspectives for many possible uses
Although the innovative unit has not yet been released for sale, we are already receiving numerous inquiries for a wide variety of applications. The focus is on generating electrical energy from existing heat sources, for example from biomass heating systems, solar mirrors, heat storage systems or for use as an emergency power generator.
Since the small Stirling engine was initially intended exclusively for use in the MobilGen™ project, helpful synergies in favor of later series production result after adaptation to the respective heat source.
Header picture: Frauscher Thermal Motors