In a few days we can celebrate six months of continuous operation of our lean gas Stirling CHP at a landfill operator. We are particularly proud of the absolutely maintenance free operation. The CHP with 6 kW electrical output power is in operation around the clock and, with the exception of a few stops that have occurred due to a lack of gas and network failures, supplies electricity to the waste disposal company's grid without service or repair access.
In the meantime, the methane concentration has dropped from originally slightly more than 50% to below 40%, which is not a problem for the aggregate, which is suitable for up to 14% methane content. "We see this long-term operation as an outsourced test stand with a fuel that we cannot simulate in-house. We thus save valuable natural gas in order to get closer to our goal of 12 months maintenance-free," says Josef Frauscher, Managing Director of the company.
However, the unit not only scores with record-breaking low maintenance. It's amazing how much energy it can extract from lean gases. In this context, we can refer to measurements by our research partner BEST Bio-energy from 2019, which determined an overall electrical efficiency of around 26% with natural gas diluted to 15% methane content.
While the CHP with pure natural gas was still able to convert 30.5% into electricity at the time, we have now reached 33% thanks to numerous optimization measures, as the following test report shows.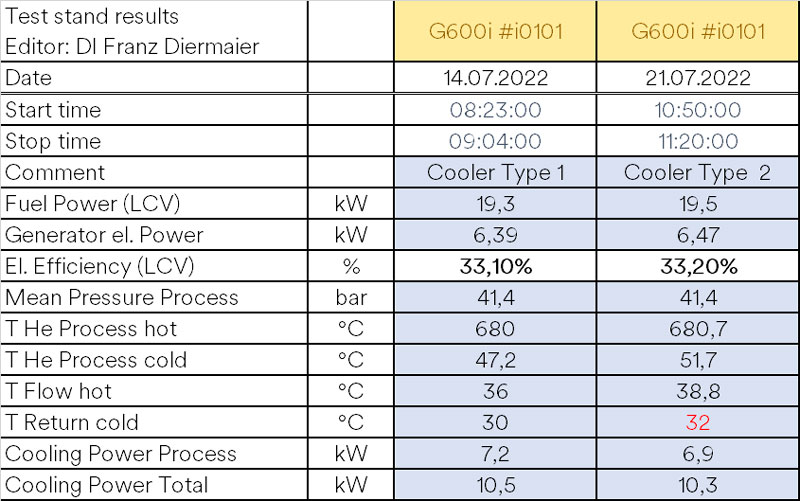 Table 1: Test data for lean gas CHP type G600 with pure natural gas (Source: Frauscher Thermal Motors test bench)
Josef Frauscher continues: "The research results of the last few years show that we are on the right track. After more than 20 years of engine research, we know that only alphagamma® technology has helped us to achieve this level of performance. The greatly reduced piston forces and compression pressures of the alphagamma® principle do not only reduce friction losses in favor of high efficiency, but also the wear and tear in the guides and bearings of the lubricating oil-free engine. This enabled us to build a solid basis for the coming market entry".
Header picture: Frauscher Thermal Motors